Adrian Ballinger
// Squaw Valley, California, USA
World class mountaineer. One of the most accomplished skiers and big-mountain climbers in the world, Adrian has summited Everest 7 times.
Location
Squaw Valley, California, USA
Achievements
7 Everest summits, including 1 without supplemental oxygen.
First person to ski Manaslu.
Only American to ski two 8,000m peaks.
Thirteen 8,000 meter peak summits since 2008.
First to summit three 8,000m peaks in only 3 weeks.
Only non-Sherpa member of Everest summit rope-fixing teams since 2010.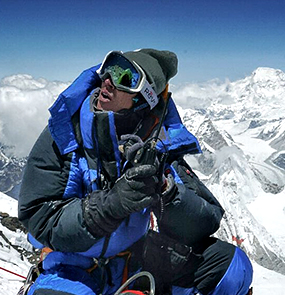 "These are powerful, life-changing experiences. I love to share them with others."
Adrian is a record-setting big-mountain climber and skier committed to pushing his limits and showing others how to do the same, the right way. His two decades on the mountain and 7 successful Everest attempts have taught him a lot and have inspired another passion - sharing the lessons he's learned with others.
The sixth highest mountain in the world, standing at 8,188m above sea level. More exclusive and less well trodden, Cho Oyu is only 20km west of Mount Everest and offers a far more authentic experience. Guided by the world-renowned leader in mountaineering, Adrian Ballinger will design an exclusive expedition tailored around your needs leading you to the hardest to reach places on the planet.
Find out more