Chris Sharma
// Barcelona, Spain
Rock climbing legend, known for deep-water solo climbing and numerous notable first ascents across the world.
Location
Barcelona, Spain
Achievements
Continually climbs at the world standard, pushing the limits of what's possible.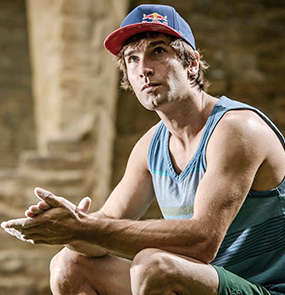 "Climbing is my lifelong journey. It's this never-ending process."
Chris Sharma, the ambassador and entrepreneur from Santa Cruz, California has for two decades, been in constant search of the planet's most difficult and beautiful rock climbs. Sharma's contributions to the sport are numerous, including climbing the first routes rated 5.15a and 5.15b in the world, and establishing the grade of 5.15c. Over the years, Sharma has popularised various genres of climbing, from bouldering to sport climbing to 'psicobloc' (otherwise known as deep-water soloing). Psicobloc involves climbing ropeless up to the sea cliffs with nothing but the ocean to protect you in the event of a fall. His signature route here is Es Pontas, on Mallorca, where he climbs the underbelly of a magnificent arch in the middle of the ocean. Chris has been and continues to be a leading force in the climbing industry.
Explore the coast of Majorca, Spain with the creature of Deep-Water Solo climbing himself, Chris Sharma. Relying solely upon the presence of water at the base of a climb to protect against injury from falls, this type of climbing is not for the faint hearted. Majorca is Chris's home and he will lead you in exploration of untouched climbing routes that only a local would know about. Test your limits under the Spanish sun and enjoy climbing in its purest form.
Find out more