Claire Fahey
// London, UK
Undefeated ladies No.1 and real tennis World Champion since 2011.
Achievements
Ladies World Ranked No.1,
Professional World Ranked No.30,
29 Open Singles Titles.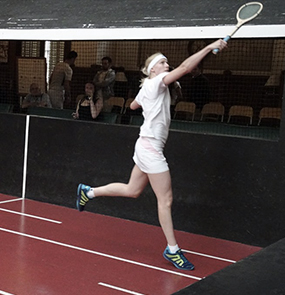 Claire is the No.1 female player in the world and the only one with a single figure handicap. She is the current Ladies Singles & Doubles World Champion, and (with her sister, Sarah) also holds the Double World Championship title. Claire won her first Open at age 16 and has since dominated the ladies game. To date, Claire has won a total of 30 Ladies Open Singles Championships and countless Open Doubles Championships, and both the singles and doubles Grand Slam in 2010, 2012, 2014, 2017 and 2014 and a Singles Grand Slam in 2011. Claire discovered real tennis aged 11 at Prested Hall and quickly found her love of the game. Her very first lesson from Ivan Ronaldson and subsequent coaching from Ricardo Smith began to expose her potential in the junior and ladies game. She won multiple British Junior Girls Championships, which led to her selection into the British Junior Squad and further in the British Academy. In 2011, Claire became the youngest ever World Champion at the age of 19, winning the Singles and also Doubles title with her sister, Sarah. Claire turned professional in April 2011. In 2010 the Tennis and Rackets Association awarded Claire the Baerlein Cup for the best tennis performance by an amateur, and in 2015 she was awarded the Warburg Trophy for the best performance by a professional. Claire was the first lady ever to be selected for the Van Alen Cup team (U26 British Team). She went on to make history again in November 2014, becoming the first lady to compete in the British Open and also competed in the US Open 2015 – another first. She competed for the first time in January 2017 in the Australian Open. Claire's newest challenge is balancing training and competing with looking after her two young children. While she is thoroughly enjoying motherhood, it has not deterred her from her goals and focus in real tennis. As well as her full-time status as a new mother, Claire is currently working part-time at Prested Hall and also assisting the Dedanists' Foundation to deliver junior coaching courses across the country. It is rare in any sport that opportunities exist to be coached by an iconic figure and the Foundation believes it is a tremendous opportunity for clubs to have a world champion on-court teaching and inspiring future generations.