Evie Richards
// Worcestershire, UK
British cyclist who specialises in mountain bike and cyclo-cross racing. Comonwealth games silver medalist and 2x under 23 World Champion. 
Location
Worcestershire, UK
Achievements
1x silver at Commonwealth Games, 2x under 23 World Champion.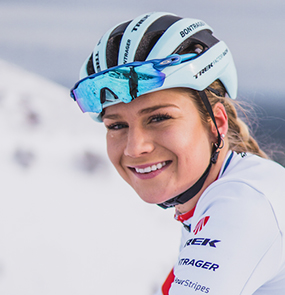 "I've always dreamed of getting a medal in the Commonwealth Games since I was a child. I really wanted a medal so bad but I didn't actually think it was realistic."
Evie Richards is the first ever under 23 women's cyclo-cross World Champion, grabbing her rainbow stripes in her first international cyclo-cross event in January 2016. Evie's initial talent and passion for cycling was born on the mountain bike, no doubt heavily influenced by her childhood surrounding of the Malvern Hills, Worcestershire. Her 2018 season saw a returned focus on mountain biking riding with her sights set on the Commonwealth Games and will be striving to reach her childhood dream of competing at an Olympic Games in years to come. Evie is currently training with British Cycling and spends much of her time in Manchester with the high-performance team. When not on the bike, Evie likes nothing more than exploring and travelling to new countries and spending time with her family. Evie is a HSBC UK ambassador and currently rides Trek bikes.