Geraint Thomas, MBE
// Monte Carlo, Monaco
Track and road cyclist, Geraint has won three World Championships, two Olympic gold medals and one Tour de France.
Location
Monte Carlo, Monaco
Achievements
2018 Tour De France winner, 3x World Champion, 2x Olympic gold medalist.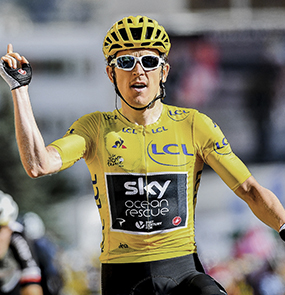 "Go for it. There's nothing holding you back. You can have ups and downs but if you believe in something, keep the faith, keep fighting and don't let people put you down."
Geraint Thomas MBE is the 2018 Tour De France winner, a race which saw him win 2 stages including on top of the iconic Alpe d'Huez - the first British rider ever to do so. Over his 12-year career as a professional cyclist, he has become one of the sport's most explosive, versatile, and celebrated riders. Away from the road, Geraint is a double Olympic Champion on the track. Growing up on the outskirts of Cardiff, "G" always dreamed of being a professional cyclist and spent most of his free time at the Maindy Velodrome honing his skills. Rising up through the British Cycling ranks, Geraint has won 6 World Cups and 2 World Championships. He is a former World Champion and Olympic gold medalist in the team pursuit in both 2008 and 2012 for Great Britain but now focuses exclusively on the road. Geraint tasted success at the 2004 Paris-Roubaix Juniors, through to senior victories at the 2010 British National Road Race Championships. Geraint went on to achieve stage race overall victories with the 2011 & 2014 Bayern - Rundfahrt, the 2016 Paris-Nice and the 2017 Tour of the Alps, as well as winning his first semi-classic, the 2015 E3 Harelbeke. 2018 has been his greatest season to date, first winning the prestigious Critérium du Dauphiné, and then taking the victory in the Tour de France. In doing so, he became the first Welshman to win the event and only the 3rd British rider after Sir Bradley Wiggins and Chris Froome.
Join Geraint Thomas in his home of Monaco and ride alongside him as he trains for the upcoming season. Ride through the Rhone Alps and Alps de Provence in the Cote d'Azur enjoying incredible rides through dramatic scenery in one of the most luxurious areas in Europe. Join Geraint as he trains on the steeper climbs which led him to victory in the 2018 Tour de France.
Find out more