Hazel Findlay
// Chamonix, France
British trad climber and big wall free climber who has been called "the best female mountaineer in Britain". She was the first female British climber to climb a route graded E9, and the first to climb a route graded 8c/5.14b.
Location
Chamonix, France
Achievements
First british woman to free climb El Capitain, Yosemite.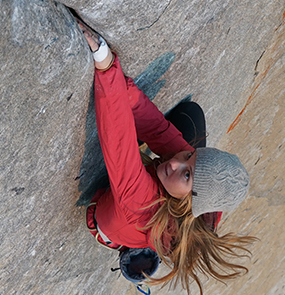 "Climbing gets you out of your comfort zone and puts you emotionally and mentally in places you didn't' think you'd be able to go."
Hazel Findlay has been climbing for 23 of her 29 years and started out trad climbing on the limestone sea cliffs of Pembrokeshire. She was the British Junior Champion 6x, but at 16 decided to give it up to focus on climbing on rock, especially trad climbing which is her main passion. Hazel was the first British woman to climb a trad route at E9, and free El Capitan in Yosemite, which she has now done three times. Hazel has also redpointed 8c and on-sighted many 8as. Hazel loves all types of climbing from bouldering to alpine climbing but it is the mental challenge that climbing evokes which gives her the thrill. The opportunities are endless with the climbing trips that Hazel can take you on. From the fjords of Greenland to the 800m granite wall north of Seoul in South Korea, Hazel will design a bespoke sport climbing and bouldering experience that will take you to reach the furthest parts of the planet.