Jason Kenny, CBE
// Manchester, UK
Britain's most decorated Olympian and cyclist, with seven gold medals on the track, as well as multiple World, Commonwealth and European Championship titles.
Achievements
Nine Olympic, nine World Championship, two Commonwealth Games and six European Championship medals.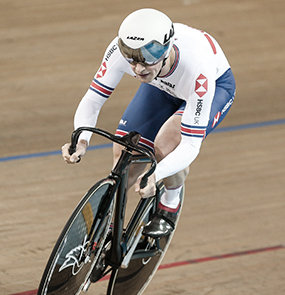 "I've never been motivated by chasing records. For me, it's about being the best I can be. "
Britain's most decorated Olympian and the world's most successful track cyclist, Jason was born and bred in Bolton. He took up cycling after a visit to the National Cycling Centre in Manchester and won titles at the junior world championships in the 2005/2006 season. He progressed to the Team GB squad at the 2008 Olympic Games, competing in the team sprint alongside Sir Chris Hoy. The team's defeat of the French in the final meant Jason had progressed from junior to Olympic Champion in just three and a half years, although he lost out to Hoy in the individual sprint event, taking home the silver medal. He followed this rapid rise with gold medals in the Cycling World Cup and European Championship (in the keirin), before successfully defending his team sprint Olympic title in 2012 (again with Chris Hoy). He was also selected ahead of Hoy for the individual sprint – which proved the correct decision as he claimed the gold medal. A World Championship title followed in the keirin in 2013 but it was 2016 that proved his most impressive Olympic performance as he took home gold medals in the team sprint, individual sprint and keirin disciplines, equalling Hoy's tally of six Olympic golds. Jason became Britain's most decorated Olympics athlete at the 2020 Tokyo Games when he defended his keirin title and added a silver in the team sprint to his haul. Jason married fellow track cyclist, Laura Trott, Britain's most decorated female Olympian, in September 2016 and the couple welcomed their first child in August 2017.
British Cycling are famously private regarding the training that the Team GB Cycling team undertake in the National Cycling Centre. However Jason & Laura can provide access to a bespoke training experience into their world of cycling at the very highest level. Part of the National Cycling Centre, the Manchester Velodrome is an indoor Olympic-standard cycle-racing track and is one of the World's finest and fastest indoor tracks. One lap is 250 metres and the bankings are 42.5 degrees.
Find out more