Jess Varnish
// Worcestershire, UK
British track cyclist, part of the reigning world record holding, European team sprint champions and World Championship silver medallist. 
Location
Worcestershire, UK
Achievements
1x European Track Champion, Silver at World Championships.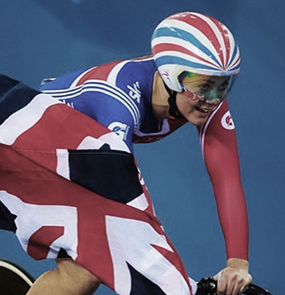 Jess Varnish is female Cyclist and is European Champion and World Championship silver medallist. In her first elite race at the 2008 Track Cycling World Cup in Manchester, Jess won gold in the Team Sprint. In 2012, prior to the Olympics, Jess along with her teammate Victoria Pendleton, broke the world record for the women's team sprint taking gold on the new Olympic track in what was a defining moment of her career. Following on from the Olympics, Jess achieved gold medals in the Team Sprint at the Cali and Glasgow World Cups, as well as an individual silver and bronze. Jess also had an injury set back in 2013 where she tore a disc in her spine and her career was on the line. She worked incredibly hard on her rehabilitation with the help of yoga and pilates and has since won further medals at European and World Cup level as well as two bronze medals in the recent Glasgow Commonwealth Games.