Joel Fearon
// Loughborough, UK
British bobsleigh Olympic Bronze medallist with Team GB and one of the only five Brits to have run the 100m in under 10 seconds.
Location
Loughborough, UK
Achievements
Sub-10 seconds, 100m sprinter and Sochi Winter Olympic bronze medallist.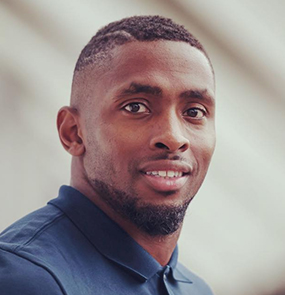 "On your journey to becoming the best you can be, never forget your God given gift that started that journey in the first place."
Joel Fearon is a British sprinter and bobsledder who won a bronze medal at the Sochi Winter Olympics, and who famously also ran 9.96 seconds to become the UK's 3rd fastest sprinter of all time. Fearon has also competed in bobsleigh since November 2011 and was part of the Great Britain crews that finished fifth in the four-man event at the FIBT World Championships in February 2013, second at the Bobsleigh European Championship in January 2014.