Katie Summerhayes
// Sheffield, UK
British freestyle skier, Winter Olympic Champion, 2x FIS World Cup medallist and FIS World Championship medallist.
Achievements
Competed at the 2014 Winter Olympics, 2x medallist at the FIS World Cup, medallist at the FIS World Championship.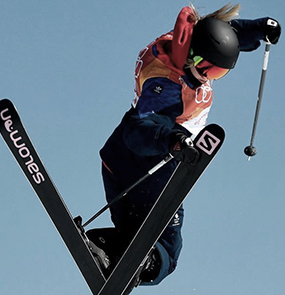 "I'm travelling the world and having the time of my life."
Katie Summerhayes is a British freestyle skier based in Sheffield, UK. She is a 2x Winter Olympian who won a silver medal at the World Championships in 2015, along with two medals at FIS World Cups. She became the first British female skier to win a medal in a World Cup event in 19 years when she finished second in the slopestyle competition in Silvaplana in February 2013. In the 2014 Sochi Winter Olympics she came 7th in the skiing slopestyle final, after qualifying in 3rd. After the Olympics, she won Gold in slopestyle at the 2014 Junior World Championships in Valmalenco, Italy. In 2015, she became the first British female competitor to win a World Championship medal in freestyle skiing when she won Silver in the slopestyle event at the Freestyle Ski and Snowboarding World Championships.