Molly Summerhayes
// Sheffield, UK
Team GB Halfpipe skier and Winter Olympian.
Achievements
Competed at the 2018 Winter Olympics.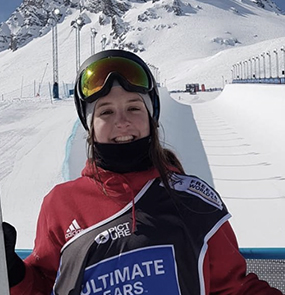 "I feel so lucky that I got to compete for my country doing something that I have loved for such a long time. Whatever the future holds, I'll never forget these memories and what they mean to me and so many others."
Molly Summerhayes is a Junior World Champion freestyle skier and who recently competed in Pyeongchang at the 2018 Winter Olympics. Born on 7th of June 1997, Molly first started skiing at the age of 4 at the Sheffield Ski Village. She quickly raised through the ranks before being selected for the GB Park and Pipe team. Originally competing in both slopestyle and halfpipe events, Molly decided to specialise in halfpipe which lead to her Gold medal in the event at the 2015 Junior World Championships.