Nick Matthew, OBE
// Sheffield, UK & Massachusetts, USA.
English professional squash player, 3x winner of the British Open and the World Open, and world ranked No.1.
Location
Sheffield, UK & Massachusetts, USA.
Achievements
3x squash World Champion, 3x Commonwealth Games gold medallist, 3x British Open Champion, 35 PSA World Tour titles, 9 National Squash titles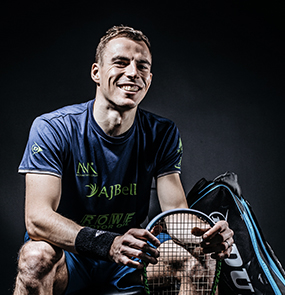 Nick Matthew is one of the greatest squash players of all time. He has achieved all of the sport's major honours, succeeded in World Championships, British Open and Commonwealth Games, three times apiece. In addition, he won 35 titles on the Professional Squash Association World Tour and held the World No.1 ranking for a total of 19 months. Nicknamed 'the Wolf' in honour of his merciless reputation on the court, Nick was also renowned for his extraordinary athleticism, strength and fitness. Nick was selected by his fellow athletes to carry the English flag at the 2014 Commonwealth Games and went on to win Gold after knee surgery only six weeks prior to the event. Based in Sheffield, Yorkshire Nick was awarded the Order of the British Empire (OBE) by the Queen in July 2015 for services to squash. He now runs the Nick Matthew Academy in the UK and USA, holds ambassadorial positions with England Squash and Dunlop and does a variety of media work.