Rob Fahey, MBE
// London, UK
Australian real tennis player and current World Champion, holding the title since 1994.
Achievements
13 World Championship titles, World Ranked No. 2, 50 Open Singles titles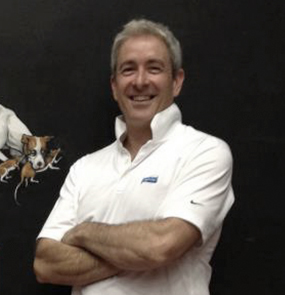 Rob was born in Hobart, Australia and took up real tennis at the age of 18. It quickly became apparent that Rob was destined for great things when after just 3 years, in 1990, he made the final of the British Open as an unseeded player, something that the game had never seen before. Rob won his first major in 1993 by winning The US Open in Philadelphia in January. This proved to be the first of (currently) 50 Open titles including 7 more US Opens, 13 Australian Opens, 12 British Opens, and 14 French Opens. This included back to back calendar Grand Slams in 2000 and 2001 and a further Grand Slam in 2008. It is Rob's World Championship record that has set him apart from every other player. He first won the gruelling best of 13 set format in 1994 and has gone on to defend his title a further 11 times. His last defence saw him defeat the more fancied World No. 1, Camden Riviere, by 7 sets to 3 proving that the 20-year age difference was no barrier. His unprecedented 12 titles unbroken run in the Championship is 4 more than any other player in the competitions long history dating back to 1730. Rob eventually lost his world title in 2016 to Camden Riviere who was lucky enough to be playing on his home court. Since moving to the UK, Rob has been very involved in bringing more Juniors into the game. At the elite level, he has spent the past decade taking talented juniors and helping them progress to an elite player. Rob is currently The President of 'The Dedanist Foundation', a charity set up specifically to assist children of all capabilities to gain access to real tennis. The charity now has over 100 new children playing after 18 months. In 2017 Rob became a Member of The Order of The British Empire for his outstanding contribution to real tennis both on and off the court.