Rowan Cheshire
// London, UK
British freestyle skier, specialising in the halfpipe.
Achievements
Bronze medallist at the 2013 World Junior Championships in Valmalenco and first British female skier to win a halfpipe competition on the FIS Freestyle Skiing World Cup, in January 2014.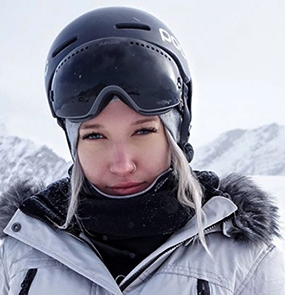 "I just want to prove what I can do and also show people what I'm capable of."
Team GB freestyle skier Rowan Cheshire burst onto the international scene in 2014, when she became the first British woman to win a Halfpipe Gold medal at World Cup level at only 18 years old, quickly establishing herself as one of the most exciting prospects across all Winter sports. Still only 21, Rowan is widely regarded to be the future face of British Winter Sport, as she looks to become the first British skier ever to win a medal at the Winter Olympics. Since making history as a teenager, Rowan has firmly established herself as Britain's No.1 halfpipe skier, competing on the international circuit and was a strong medal contender for the Winter Olympics in Sochi 2014. However, an unfortunate fall during training just a few days before the competition left her with a concussion and she was forced to retire. This setback only made Rowan more determined to achieve her goal and since then, after a brief stint working as a model, she has continued to compete on the international circuit and achieved multiple top 4 finishes. Rowan made a successful comeback at the 2018 Winter Olympics in Pyeongchang, where Rowan came a very credible 7th. Since Pyeongchang, Rowan has become a qualified PT and looks to improve client's mental health through fitness. Her sights are now set on Beijing 2022, where she's looking to medal.