Sam Walker
// Notinghamshire, UK
British table tennis player, Commonwealth Silver and Bronze medallist.
Location
Notinghamshire, UK
Achievements
Bronze medallist at the World Championships, World Cup bronze medallist, Commonwealth Games silver and bronze medallist.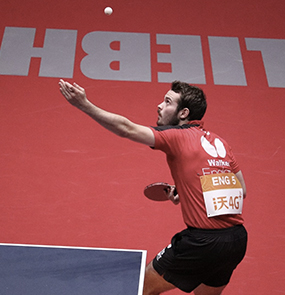 Sam has played table tennis from a very young age. His father introduced him to the sport at 2 years old, by standing him on a stool to see over the table. Sam has played for England in every age group as a junior. At 16, he got a contract with a professional club in Germany to live, play, and train there. Sam began in the fourth league in Germany and in the 7 years he's been there, he's worked his way to the Bundesliga where he's played for the last 3 seasons. For the upcoming season, Sam will play in the French first league but continue to live and train in Ochsenhausen, Germany.