Saskia Clark, MBE
// Cowes, Isle of Wight
British sailor, winner of an Olympic gold and silver medal.
Location
Cowes, Isle of Wight
Achievements
1x Olympic Gold, 2x Olympic Silver, 1x Gold World Championships, 3x Silver World Championships.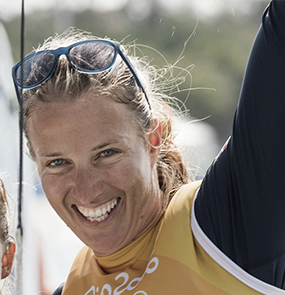 "There is nothing, absolutely nothing half so much worth doing as simply messing about in boats."
Saskia took a dislike to sailing as a child, but quickly changed her mind when she beat her elder sister once in a race. From there she progressed through the British junior and youth programs, with her under 18 career culminating in the European Youth title. After some time away from the sport to complete university, Saskia returned to sailing and struggled to make the transition to the senior circuit so decided to pursue a career away from the water. Whilst watching friends and former competitors compete in Athens 2004, she resolved to pursue her Olympic dream and returned to the circuit with a new found professionalism and desire to win. Her first Olympic experience ended in a 6th place finish but importantly showed her first hand what it would take to win at the top level. After trialing various team mates though the 2012 cycle, Saskia and Hannah Mills crossed paths late in the cycle and would be the team to end up making history. The first British women to win a 470 World Title followed by the Olympic silver medal in London 2012. The battle for gold had been too close and left the pair with unfinished business, determined to go one better. A tricky 4 years followed, a struggle with illness and injury, but Saskia and Hannah turned up to Rio 2016 with one loss in the 9 months prior to the Games. They won the gold medal and ended 2016 with the pair voted as Rolex World Sailors of the Year.
The Galapagos Cup is based in the Galapagos Islands and is held here once every two years. The event starts with an offshore race from Ecuador to the Galapagos, and is followed by a week of racing around the Galapagos Islands.
Find out more