Tahnee Seagrave
// Wales, U.K.
British cross-country cyclist and downhill mountain biker, current UCI Mountain Bike World Champion. 
Achievements
Won the Junior World Champs in 2013, finished the World Cup season in 4th and coming 5th at the World Championships in 2016, won 3 of the 7 elite women's races, and finish in 2nd in the battle for the overall title in 2017, repeating it in 2018.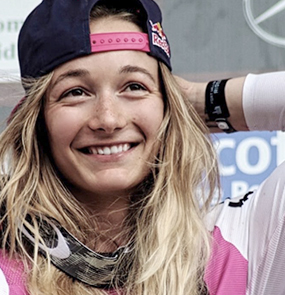 "Hard work beats talent when talent fails to work hard."
Tahnée Seagrave has a big dream. Tahnée became one of downhill's most exciting talents back in 2013. Not only did she win the Junior World Champs, but she also started making waves in the elite category, finishing the season in the top 10 at just 18 years old. It all begun for the French-raised rider when her parents moved to Morzine when she was just eight years old. Influenced by the pro riders staying at her parents' chalet, Tahnée picked up a downhill bike and never looked back. 2017 saw Tahnée win three of the seven elite women's races, and finish in second in the battle for the overall title - which she repeated in 2018, although this time the battle for the World Cup overall came down to the very last race.
Mountain biking in Morzine and the Portes du Soleil is amongst the best in Europe and the spiritual home of France's downhill mountain biking scene. The wide variety of terrain and trails make it world famous for downhill, free-ride and cross-country riding.
Find out more