Island of Kulusuk, Greenland
Heliskiing with Ingrid Backstrom on the Island of Kulusuk, Eastern Greenland
April - May
Location
Island of Kulusuk, Greenland
Difficulty
Intermediate - Advanced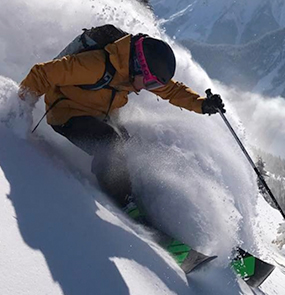 View profile
Ingrid Backstrom
Iconic backcountry skier, The North Face Athlete and five-time winner of the Female Skier of the year Powder Award.
---
What is it
The southeast coast of the world?s largest island, Greenland, is home to the region of Ammassalik, well known for its jagged peaks, deep fjords and unique Inuit culture that was only interrupted about a hundred years ago by European explorers for the first time. With thousands of peaks and slopes to explore and ski, in a landscape, nature and culture like no other, where untouched snow-capped peaks tower over the frozen landscapes of towering icebergs, fjords and islands. Greenland is, and will keep on being one the world?s most unique places to go Heliskiing.
Where is it
Kulusuk, formerly Kap Dan, is a settlement in the Sermersooq municipality in south eastern Greenland, being the gateway to adventured based activities.
Who is it for
For Skiiers who wish to explore untouched peaks in landscape and culture like no other.