Alam-Kuh, Iran
Climbing with Hazel Findlay in Iran
July - August
Difficulty
Intermediate - Advanced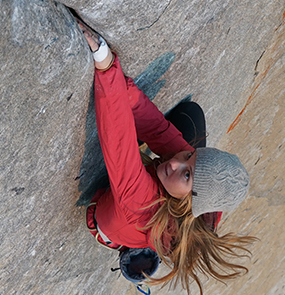 View profile
Hazel Findlay
British trad climber and big wall free climber who has been called "the best female mountaineer in Britain". She was the first female British climber to climb a route graded E9, and the first to climb a route graded 8c/5.14b.
---
What it is
lam Kuh summit (4851m) is the second highest mountain in Iran and the most technical with regard to climbing. The north face of the summit consist of granite technical routes and walls perfect for a long multi-pitch big wall climb over a couple of days with the use of portaledges.
Where it is
Alam-Kuh - Mount Alam - is a mountain in Alborz mountain range in north of Iran, Mazandaran Province, forming a peak of Takht-e Suleyman Massif. With an elevation of 4,850 meters, it is the second highest peak in Iran.
Who it is for
Depends on the route but needs to be an experienced traditional climber who spent time in the mountains.