Fjords of Greenland, Greenland
Climbing with Hazel Findlay in the Fjords of Greenland
June - August
Location
Fjords of Greenland, Greenland
Difficulty
Intermediate - Advanced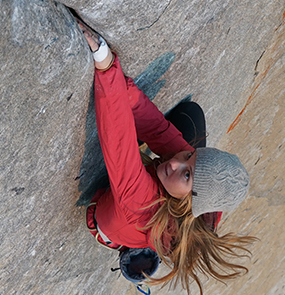 View profile
Hazel Findlay
British trad climber and big wall free climber who has been called "the best female mountaineer in Britain". She was the first female British climber to climb a route graded E9, and the first to climb a route graded 8c/5.14b.
---
What it is
Sailing around the Fjords of Greenland, spending long days climbing objectives you picked out from the boat. This will include beautiful scenic walks and small mountain climbs.  
Where it is
Greenland is the world?s largest island and it is an exciting destination in the Arctic for all adventure minded travellers. Modern Greenland is a diverse, geographically extensive society with an adventurous population. Has a diverse list of fjords which enables you to have a unique climbing experience.
Who it is for
This exclusive trip for those who are passionate about climbing in the very best locations on the planet whilst learning and developing their ability to climb. Prior training is essential, requiring commitment to following a custom-made training plan as well as in depth coaching throughout the trip. There will also be post trip debrief to ensure your progress does not stop.