Les Alps de Provence
Cycling with Geraint Thomas in Les Alps de Provence
January - March
Location
Les Alps de Provence
Difficulty
Intermediate - Advanced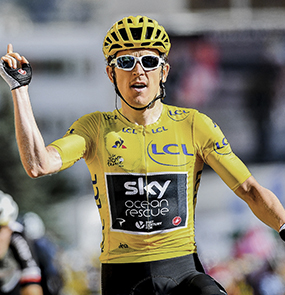 View profile
Geraint Thomas, MBE
Track and road cyclist, Geraint has won three World Championships, two Olympic gold medals and one Tour de France.
---
What it is
Join Geraint Thomas in his home of Monaco and ride alongside him as he trains for the upcoming season. Ride through the Rhône Alps and Alps de Provence in the Cote d'Azur, enjoying incredible rides through dramatic scenery in one of the most luxurious areas in Europe. Join Geraint as he trains on the steeper climbs which led him to victory in the 2018 Tour de France.
Where it is
Provence, a region in southeastern France bordering Italy and the Mediterranean Sea, is known for its diverse landscapes, from the Southern Alps and Camargue plains to rolling vineyards, olive groves, pine forests and lavender fields.
Who it is for
For experienced cyclists.