Cycling Club
Tiffany Cromwell
Road and Race // Cap D'ail , ?Provence-Alpes-Côte d'Azur, France
Professional Australian Road Cyclist, currently part of the Canyon SRAM racing team. Tiffany has secured multiple World Tour stage wins, classical wins and podiums. Her highlights comprise of 8x Road World Championships and 2x Commonwealth Games, representing Australia.
Location
Cap D'ail , ?Provence-Alpes-Côte d'Azur, France
Achievements
8x Road World Championships and 2x Commonwealth Games, competing for Australia.
Experiences
Cycling with Tiffany Cromwell along the Shimanami Kaido, Japan , Cycling with Tiffany Cromwell in the Tour de Flanders, Belgium , Cycling with Tiffany Cromwell along the Strade Bianche, Tuscany , Cycling with Tiffany Crowell around Lake Bakail, Russia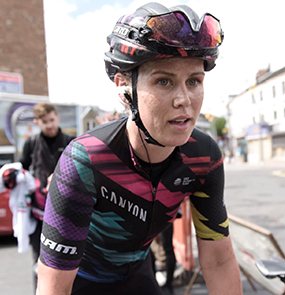 "Cycling is a beautiful sport as it gives you a true feeling of freedom. It gives you the chance to explore places you?d probably not normally go by car or foot. You can push yourself as hard as you want or just take it easy and get a true sense of satisfaction."
Tiffany is currently one of Australia?s top female road cyclists on the international circuit, chasing her dream to become the best female cyclist in the world. With victories in some of the biggest races and part of many team successes, Tiffany is continuing her upward trajectory with the CANYON//SRAM Racing Team in 2018. Most recently supporting the team on the Giro Rosa. Tiffany also relished the chance to ride for Australia at a home Commonwealth Games on the Gold Coast in April this year when she was the team captain on the road for the women's road team, leading the team to success with teammate Chloe Hosking's gold. ? Not only does Tiffany ride bikes, but she?s also an aspiring designer working on her brand Tiffany Jane designs and collaborating with Rapha on the 'Ode to the Sun' collection launched in January this year. From freelance cycling apparel design to Tiffany Jane branded collaboration projects, be sure to look out for her creative flair. Her flair also extends to the kitchen - follow Tiffany on Instagram for many inspiring recipes and creations to replicate. ? On the bike, follow Tiffany on her journey towards the Tokyo 2020 Olympics and get behind the ambitious Australian.